"Suddenly There: Discovery of the Find," Garis & Hahn, 2013–2014
Suddenly, There: Discovery of the Find, a group exhibition, curated by Eileen Jeng and Tamas Veszi, at Garis & Hahn focused on the creative process and its unexpected outcomes. Suddenly, There featured drawings, paintings, photographs, sculptures, videos, and installations, from 1974 to 2013, by 21 New York-based artists.
Hungarian psychologist, Mihály Csíkszentmihályi, describes the concept of flow as an optimal experience and single-minded immersion that requires focus and full concentration. He applies this notion to the creative process and states, "in flow we only feel what is relevant to the activity." The exhibition Suddenly, There takes this idea further in examining the complexities of the creative process. With multiple access points to an excess of information at any given time, artists who are working in one direction sometimes start working in another; the flow is broken and redirected toward a new and exciting place.
Diversions, distractions, and deviations lead to discoveries. This exhibition focuses on the find, including works in various media that have been created or conceived of while in the process of making other artworks, during the installation of works for exhibitions or presentations, or utilizing materials – remnants or parts of other works – from around the studio. Rather than concentrating on the sketching or planning of specific works, this exhibition emphasizes the chain reaction and progression of the creative process toward the unexpected – a proactive place for artists to move forward. Thereby, works in progress develop into pivotal or new important works.
A booklet with descriptions of the works and processes was published for the occasion of this exhibition. On December 18 from 7 - 8 pm, András Böröcz performed 11 Grapefruits 2, a conceptual work that introduces the fruit into his repertoire of ordinary, round sculptural objects and includes a new video.
Featured artists: Michael Alan, Eve Bailey, András Böröcz, Matías Cuevas, Dave Hardy and Siebren Versteeg, Clinton King, Daniela Kostova, Thomas Lendvai, Alan Lupiani, Jennifer and Kevin McCoy, Robert C. Morgan, Christopher Moss, Joe Nanashe, Ian Pedigo, Jamie Powell, Armita Raafat, Mónika Sziládi, Tamas Veszi, and Aaron Williams
About the Artists
Michael Alan was born in 1977 in Bushwick during the New York City blackout. Alan's intricate drawings, paintings, and sculptures have been featured in 9 New York solo shows, over 200 group shows, and over 200 Living Installations – happenings, founded and directed by the multimedia artist, where human beings are transformed into unique, living art objects with original music. Alan's work has been discussed in over 200 publications and media sources, including American Artist, Artforum, Art+Auction, Marie Claire Italia, The New York Times, Art 21, NBC's Today Show, and Fox Channel 5, to name a few.
Eve Bailey creates ergonomic and kinetic sculptures, based on the concept of balance and coordination, which embody her love for architecture and dance. Bailey has exhibited her work in France, Germany, The Netherlands, Switzerland, Cuba, Russia, and across the US. She was awarded funded residencies from the Bemis Center for Contemporary Arts, Omaha, NE; Triangle Arts, Brooklyn, NY; I-Park Foundation, East Haddam, CT; and Sculpture Space, Utica, NY, among others. She holds an MFA in Sculpture from the École des Beaux Arts, Paris and a BFA in architectural metal work from Olivier de Serres School of Design, Paris. Bailey started incorporating performance in her sculptural work after receiving a fellowship from the San Francisco Art Institute.
András Böröcz was born in Budapest, Hungary. He studied painting at the Budapest Art Academy and was a member of Indigo, an underground artist group that was critical of the dictatorship. In the late 1970s, he began performing for international audiences and participated in Documenta (8) in Kassel, Germany in 1987. After moving to New York in 1986, Böröcz concentrated on sculpture, conceptually working with post-Pop ideas of discarded and common materials. The pencil became his object of choice, both for its democratic nature and its function as an artist's tool. Böröcz has exhibited and performed extensively in the US and Europe, most recently, in a number of museums and galleries in Hungary. Böröcz is the founding director of Alma on Dobbin, Inc., a trustee of the Ampersand Foundation Johannesburg/NYC, and co-founder and director of 2b Gallery in Budapest, Hungary.
Matías Cuevas was born in Mendoza, Argentina in 1980. Following his early classical training at Universidad Nacional de Cuyo, Cuevas received his MFA in 2009 from the School of the Art Institute of Chicago where he received a number of awards. Recent exhibitions of his paintings and sculptures have been held at El Museo del Barrio, New York; Lehmann Maupin, New York; Leyendecker Gallery, Spain; Alderman Exhibitions, Chicago; and Green Gallery, Milwaukee, among others. His work is in many private and public collections, including the Museo de Arte Contemporáneo de Rosario and Museo de Arte Moderno de Mendoza.
Dave Hardy and Siebren Versteeg continue to collaborate on the multimedia project Spirit Tours, started in 2004, for the exhibition. Versteeg received a BFA from the School of the Art Institute of Chicago and an MFA from the University of Illinois at Chicago. He studied at Skowhegan School of Painting and Sculpture in Maine and the School of Visual Arts in New York. Solo museum exhibitions have been held at the RISD Museum, Providence; Ulrich Museum of Art, Wichita; and Wexner Center for the Arts, Columbus, among others. His work has been in museum group shows in the US, Czech Republic, and Austria, to name a few. Versteeg's work is in various collections, including the Albright-Knox Art Gallery, Guggenheim Museum, Hirshhorn Museum, The Margulies Collection, RISD Museum, Ulrich Museum of Art, and Yale University Art Gallery.
Hardy received a BFA from Brown University and an MFA from the Yale School of Art and studied at Skowhegan School of Painting and Sculpture in Maine. Solo exhibitions have been held at Art in General, La Mama Galleria, Regina Rex, and 92Y Tribeca in New York as well as at Southern Exposure in San Francisco. His work has been included in group exhibitions at PS1, SculptureCenter, and Jack Shainman Gallery in New York. Hardy is currently a professor of sculpture at New York University.
Clinton King graduated with an MFA from The School of the Art Institute of Chicago. His paintings have most recently been exhibited at the Dorsky Foundation and Parallel Art Space in Brooklyn and One River Gallery Space in Englewood, NJ. He will soon reside at the Yaddo artist retreat. Previous exhibitions have been held at the Boots Contemporary Art Space, St. Louis; Gallery 400, Chicago; The Suburban, Chicago; International Performance Art Festival, Helsinki; 1a Space Gallery, Hong Kong; Youkobo Art space, Tokyo; and Zaim Space, Yokohama, Japan.
Daniela Kostova uses photography, video, and installation to address issues of geography, cultural representation, the production and crossing of socio-cultural borders, and the processes of translation and communication. Kostova has exhibited her work at numerous museums, including the Queens Museum of Art, Queens, NY; Sofia City Gallery, Sofia, Bulgaria; Kunsthalle Fridericianum, Kassel, Germany; Fondazione Sandretto Re Rebaudengo, Torino, Italy; and Kunsthalle Wien, Vienna, Austria, among others. Kostova received many awards and fellowships, including an Unlimited '11 Award for Contemporary Bulgarian Art and a Graduate Fellowship from the Rensselaer Polytechnic Institute in Troy, NY. In 2011, together with Stanislava Georgieva, Kostova started Bulgarian Artists in America (BAA), where she is Exhibition Director. She is also the Director of Curatorial Projects at Radiator Gallery and a Board Member of CEC Artslink.
Thomas Lendvai was born on Long Island, New York and raised by parents who emigrated from Hungary in the early 1970s. Growing up on Long Island, Lendvai worked during the summer months with his father as a carpenter. This experience has shaped and influenced his sculptural practice to this day. Most, if not all of his work, uses construction based materials and techniques. Today, Lendvai continues to make sculpture and site-determined installations, which have been exhibited in Chicago, Key West, and Tokyo, and, most recently, in Hoboken, NJ. Lendvai received his BA from SUNY Stony Brook in 1999 and his MFA from the School of Visual Arts in 2002.
Alan Lupiani engages in socio-political issues on a local, regional, and international level in his multi-media installations, performances, sculptures, and paintings. He has exhibited and performed in multiple museums, galleries, and art events throughout the United States, including Winkleman Gallery, New York; Postmasters Gallery, New York; the "No Comment" Art Show for Occupy Wall Street; Third Ward Gallery, Brooklyn; Governor's Island; Radiator Gallery, Long Island City; and his alma mater, Binghamton University in 2012. Lupiani presented "Art Road Show" at Art Basel Miami Beach, where he interviewed gallerists and artists in 2010 and 2011. Most recently, he curated the exhibition So Real at Radiator Gallery in 2013.
Jennifer and Kevin McCoy explore changing conditions around social roles, categories, and genres in their range of work from sculpture to video installation to software to curatorial practice. They wonder what counts as 'new' and about the associated technological, environmental and social costs. In New York, their work has been exhibited at museums, such as The Metropolitan Museum of Art, PS1, The Museum of Modern Art, and the New Museum. International exhibitions include projects at the Pompidou Center, Paris; the British Film Institute, London; and Bonner Kunstverein, Bonn, to name a few. Recent grants include a 2011 Guggenheim Fellowship. Articles about their work have appeared in Art in America, Artforum, ARTnews, The New York Times, and Newsweek. Their work is represented by Postmasters Gallery, New York and by Guy Bartschi, Geneva and is in the collections of The Museum of Modern Art, The Metropolitan Museum of Art, Milwaukee Art Museum, and MUDAM, Luxembourg.
Robert C. Morgan, an artist and writer, began showing at the Institute of Contemporary Art in Boston as well as at Artists Space and The Whitney Museum of American Art in New York in the 1970s. His films have been presented at Anthology Film Archives, White Box, and Millennium Film Workshop. Morgan's photographs, visual books, paintings, conceptual works, and installations have been shown at White Columns, New York; CEPA, Buffalo, NY; McKissick Museum, Columbia, SC; Ulrich Museum, Wichita, KS; Museum of Contemporary Art Chicago; and The International Artists Museum, Lodz, Poland, among others. Recent solo exhibitions in New York have been held at Bjorn Ressle Gallery, Sideshow Gallery, John Davis Gallery, Able Fine Art, Creon Gallery, and, currently, at Rooster Gallery, where the show has been recommended by Art in America. Morgan's work has also been reviewed in Artforum, ARTnews, artcritical, The New York Times, and Wolgan Misool (Korean) and is in many prominent collections.
Christopher Moss received a BFA from Marywood University, Scranton, PA in 2000 and an MFA from CUNY Brooklyn College in 2006. His work has been included in group exhibitions at Shaheen Contemporary, Cleveland and Grizzly Grizzly, Philadelphia, among others, and is available at Artware Editions, New York and Theodore:Art, Brooklyn, where he will have his first New York solo exhibition in March 2014.
Joe Nanashe was born in Akron, Ohio. The city's post-industrial landscape and emphasis on manual labor influenced the repetitive, task-driven nature of his work. He received his BFA from the University of Akron in 2003 and his MFA from Rutgers in 2005. A multimedia artist, Nanashe creates works that confront the viewer with issues of violence, control, meaning, humor, perception, and the body. His videos have been shown in film festivals in the US and in Switzerland. His drawings, sculpture, photographs, and sound work have been recently exhibited at the Parrish Art Museum and Islip Art Museum on Long Island as well as internationally in Argentina, Canada, Germany, Japan, The Netherlands, Russia, and Switzerland.
Ian Pedigo was born and grew up in Anchorage, Alaska. He studied visual art/sculpture at the University of Texas at Austin and participated in the Salzburg Summer Academy of Fine Art in Austria, studying with such figures as Ilya Kabakov and Boris Groys. His work has been exhibited across North America and Europe, including solo exhibitions in at the Abrons Art Center and Klaus Von Nichtssagend, New York; University of Gothenberg, Sweden; and Rokeby Gallery, London. His sculptures, photographic works, and installations have been written about in Artforum, ARTnews, Art Review, Frieze, The New York Times, and The New Yorker, among other publications. A monograph of his work was published in 2011 by the Southern Alberta Art Gallery.
Jamie Powell was born and raised in West Virginia, thirty miles south of the Mason Dixon Line. She received her MFA and the Paul Robeson Emerging Artist Award from the Mason Gross School of the Arts at Rutgers University in 2006. She has received grants from the Geraldine R. Dodge Foundation, Vermont Studio Center, and Pratt Institute. Jamie has exhibited her cutout abstract paintings extensively over the last eight years at venues including FLUXspace, Philadelphia; Seton Hall Law School, Newark; the National Arts Club, New York; and Soil Gallery, Seattle. She teaches painting and drawing at Pratt Art Institute in New York.
Armita Raafat received her BFA from Al-Zahra University in Tehran, Iran and completed her MFA at the School of the Art Institute of Chicago in 2008. Recent solo exhibitions of the artist's installations have been presented at the Museum of Contemporary Art Chicago in 2009 and Threewalls, Chicago in 2010. Her work has been featured in recent group exhibitions in Chicago, New York, New Jersey, Tehran, and Seoul, Korea. Her solo shows have been reviewed in publications, such as Art in America and New City. In 2011, she was featured in the book Out of Rubble, published by Charta. Raafat was a 2009 recipient of a swing space residency with the Lower Manhattan Cultural Council and currently holds a studio residency with the Elizabeth Foundation for the Arts in New York. She will also participate in the Artist at Market Place (AIM) program at the Bronx Museum of Art in 2013.
Mónika Sziládi was born and raised in Budapest, Hungary. She received an MFA in Photography from Yale in 2010 and a Maitrîse in Art History and Archaeology from Sorbonne, Paris in 1997. She was the recipient of the Alice Kimball English Traveling Fellowship, Daylight/CDS Photo Award, and Humble Arts' Fall 2012 New Photography Grant as well as the winner of The Philadelphia Museum of Art Photography Competition in 2010. She was a resident in Skowhegan in 2008 and at Smack Mellon in 2012. Selected institutional exhibitions she has participated in have been held at the DUMBO Arts Center, Brooklyn; Institute of Contemporary Art, Dunaújváros, Hungary; Staatliche Kunsthalle, Baden-Baden, Germany; The Magenta's Foundation's Flash Forward Festival, Toronto, Canada; and Hasted Kraeutler, New York. Sziládi's work is in the permanent collection of the Philadelphia Museum of Art.
Tamas Veszi is a multimedia artist with an academic background in painting. His activities as a community initiator bridge a gap between his restless interest for the questions of embodiment and formlessness. Veszi left Hungary at the age of seventeen and studied in Israel, Italy, and France, and he moved to New York in 1997. In 2000 he received his BFA in Fine Arts at the Pratt Institute, and formed the group "Greenpoint Riverfront Artists" who curated and produced performances, rooftop independent film screenings, and annual open studios. He earned his MFA at Brooklyn College under the guidance of Elisabeth Murray and Vito Acconci. Veszi has exhibited his work in Austria, Canada, England, Germany, France, Hungary, Italy and throughout the United States. As director of RadiatorArts in Long Island City, Veszi has collaborated with the Embassy of Israel and Art Market Budapest as well as organized exchanges with La Couleuvre Art Center, Paris and Bäcker Strasse 4 Gallery, Vienna.
Aaron Williams was born and raised in Rhode Island and holds a BFA from the Maine College of Art and an MFA from Rutgers University. Using common photographic sources, such as mass market posters, Williams continues to expand idea of mark-making and materials. His solo exhibitions have been held at Max Protetch Gallery, Baumgartner Gallery, Mulherin + Pollard in New York, and, most recently, Lamontagne Gallery in Boston. His work has been featured in several group exhibitions throughout the United States at venues including the Portland Museum of Art, Portland, ME; Howard House, Seattle, WA; Hal Bromm Gallery, NYC; Parallel Art Space, Queens, NY; and Memphis Social, Memphis, TN.
About Garis & Hahn
Garis & Hahn is a gallery-cum-Kunsthalle that mounts exhibitions focused on conceptual narratives and relevant conversations in contemporary art. By displaying an array of carefully curated artists, the gallery endeavors to provide accessibility, education, awareness, and a market to the art while engaging both the arts community and a broader general audience.

PRESS
Clockwise from front: Tamas Veszi and Alan Lupiani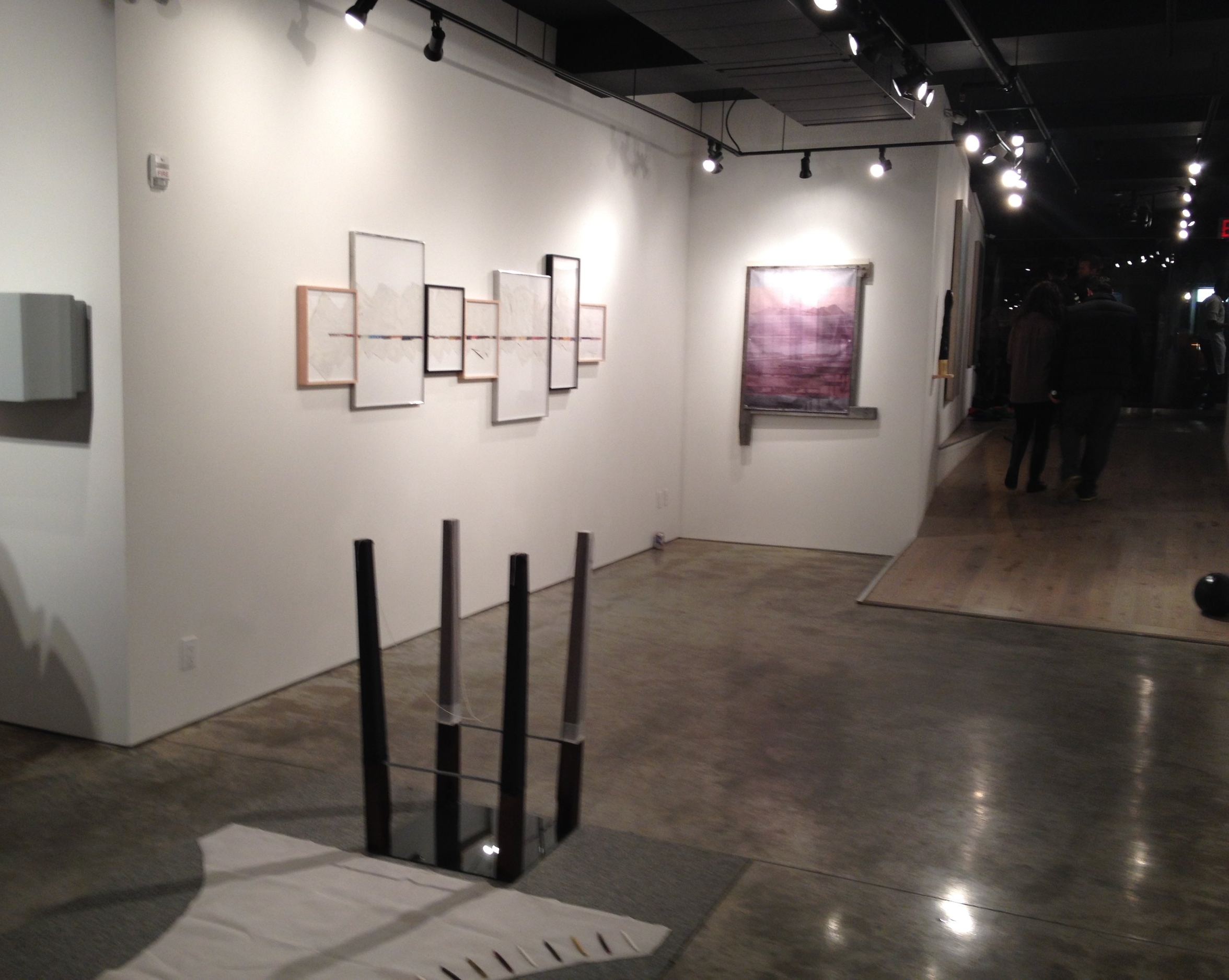 Clockwise from front: Ian Pedigo, Tamas Veszi, Aaron Williams, Ian Pedigo, Matias Cuevas, Clinton King, Alan Lupiani
Alan Lupiani, Pinkplinth, 2013
Armita Raafat, Untitled, 2012
Monika Sziladi, Anxiety, Unspecified: Untitled (3), 2011
Robert C. Morgan, Learning to Swim, 1974
Joe Nanashe, No! 4 Variations, 2013 (still)
Christopher Moss, Untitled, 2013
Eve Bailey, Playtime, 2013
Ian Pedigo, Up the Place at Last Within, 2013
Aaron Williams, Horizon, 2011
Jennifer and Kevin McCoy, Artists Talks, 2008
Michael Alan, 12 Foot Painting, 2012-2013
Matias Cuevas, Black Madonna, 2013
Clinton King, Untitled Instructions, 2010
Thomas Lendvai, Untitled, 2013
Daniela Kostova, Fixing Reality, 2004
Michael Alan, He Said, She Said, 2012-2013
SPIRIT TOURS, MickEyEclipse, 2013